Termite Pest Control Singapore
Termite (Subterranean)
Termites are highly destructive insect pests in the urban environment which feed on the cellulose found in wood. Termites are generally categorized into three groups: subterranean termite, drywood termite and dampwood termite. There are several species of subterranean termites known to be pests, Coptotermes sp., Macrotermes sp., and Microcerotermes sp. Coptotermes sp. are the most destructive types in Singapore because they infest buildings and structures. They nest beneath the soil and dependent on soil for moisture. They construct shelter tubes to avoid dehydration during the process of searching for cellulose above the ground level.
Sign of infestation
Presence of mud tube tunnels (build-in cabinet, ceiling, doorframe, wooden floor)
Damage on wooden structure
Clicking sound produce by soldier termite on wood structure
Cause of termite infestation
Presence of water sources or moisture
What if not treated on time?
Severe damage to entire building / structure
Cause structures unliveable until expensive repairs are conducted
Types of treatment
Thermal Imaging
Above-ground baiting
Dusting
Rodding (Landscape)
Anti-termite corrective treatment
Soil treatment
Treatment Approach
Visual inspection to potential infestation site
Carry out a thorough inspection by using the latest technology equipment (Thermal Imaging Camera) to locate subterranean termites
Identify the species of termite
Recommend the effective treatment for the infestation
Spot treatment uses either above-ground baiting system or by the conventional dusting method
For preventive treatment, we can provide either Anti-Termite Corrective Treatment / Soil treatment / Rodding
After treatment, recommendation of sanitation and structural improvement to minimise prevention of future pest infestation
Preventive measure
Remove unessential cellulose-based materials (e.g., lumbers, firewood, dead trees, tree stumps, etc.)
Eliminate all sources of water or moisture (e.g., repair and fix water leakages)
Install screens in attics and foundations to prevent alates from entering into the premises
Termite Control Page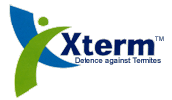 Termite (Drywood)
Drywood termites are termites living in moisture less wood with no connection to the soil. They form nests in the structure or wood that they are infested, such as door frame and furniture. Living inside wood that has no contact with water, drywood termites have ability to metabolize water from the wood that they eat, absorbing and reabsorbing water from their faeces. Drywood termite colonies are very small compared to subterranean termite colonies.
Sign of infestation
Dropping of small size faecal pellet (1mm)
Damage on wooden structure
What if not treated on time?
Severe damage to furniture / household items
Preventive measure
Remove unessential cellulose-based materials (e.g., lumbers, firewood, dead trees, tree stumps, etc.)
Install screens in attics and foundations to prevent alates from entering into the premises
Protect wood surfaces by sealing off cracks and crevices